Golf trip with golf player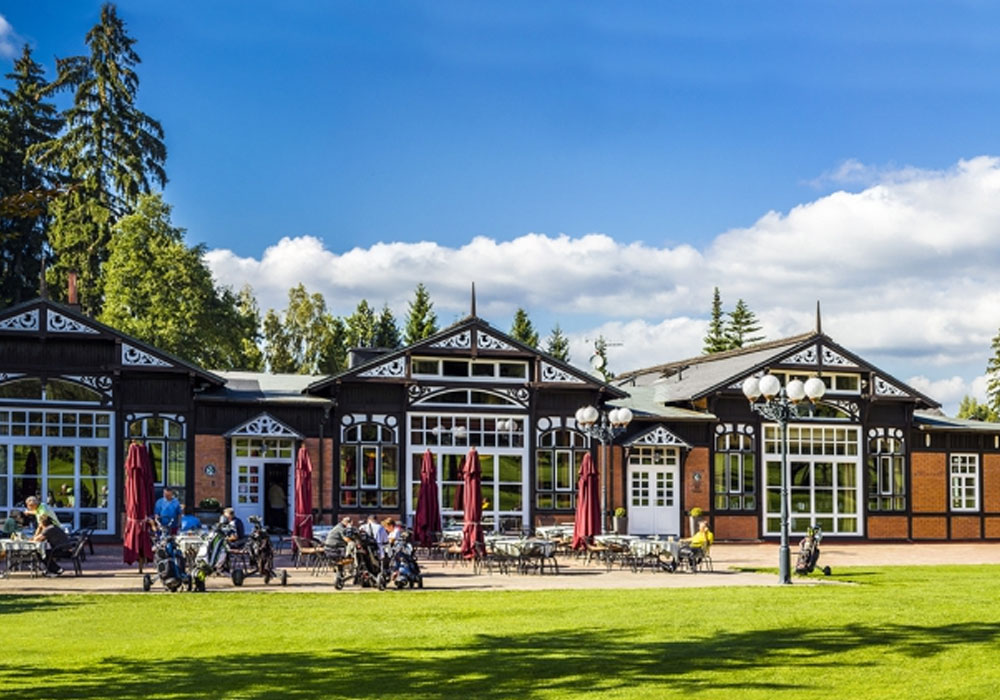 Royal Golf Club Mariánské Lázně
The Marianske Lazne Golf Club course may serve as an example of Scottish and Irish golfing architecture from the end of the 19th century. The course lies on an upland plain 787 meters above sea level, built under the governance of Scottish professional Robert Doig of Musselburgh. It was opened in 1905. Therefore it is the oldest course in The Czech Republic.
———–
The original Marianske Lazne 9-hole golf course and clubhouse were opened in 1905. It was a great achievement of the towns representatives, who had responded to numerous requests of western spa guests. The course was built according to plans of Scottish Professional Robert Doig of Musselburg.
From the very beginning the course and the club became exceptionally popular particularly between the English and American guests. HM Edward VII, the King of The United Kindom together with the British ambassador in Vienna became two of the first club members. Edward VII is known to have financially supported the club from the beginning. The first game at the newly opened 9-hole course was played on the 1st of June, 1905, while the clubhouse still had not been finished. The official clubhouse opening ceremony took place on the 21st of August 1905 with the presence of the King. A tournament had been organised, with prizes donated by the King. This day is commemorated every year on the same date since then. The popularity of golf grew constantly. Finally, the course was extended to 18 holes in 1923.
Royal Golf Club Mariánské Lázně
Golf course Ypsilon Golf Resort Liberec is situated at an altitude of 420-470 meters above sea level and is located in beautiful countryside without the hustle of civilization near the dam Fojtka at Liberec. This course hosted most of the Czech Masters Tournaments, Czech Internatinal Championschips and more great tounaments.
————–
Campus course occupies a land area of 102 ha, 37 ha of which form the actual playing surface. Local hilly area provided the English architect Keith Preston to create 18 specific holes with a total length field, which exceeds six thousand meters (6102 m – men's championship tees) with a par 72nd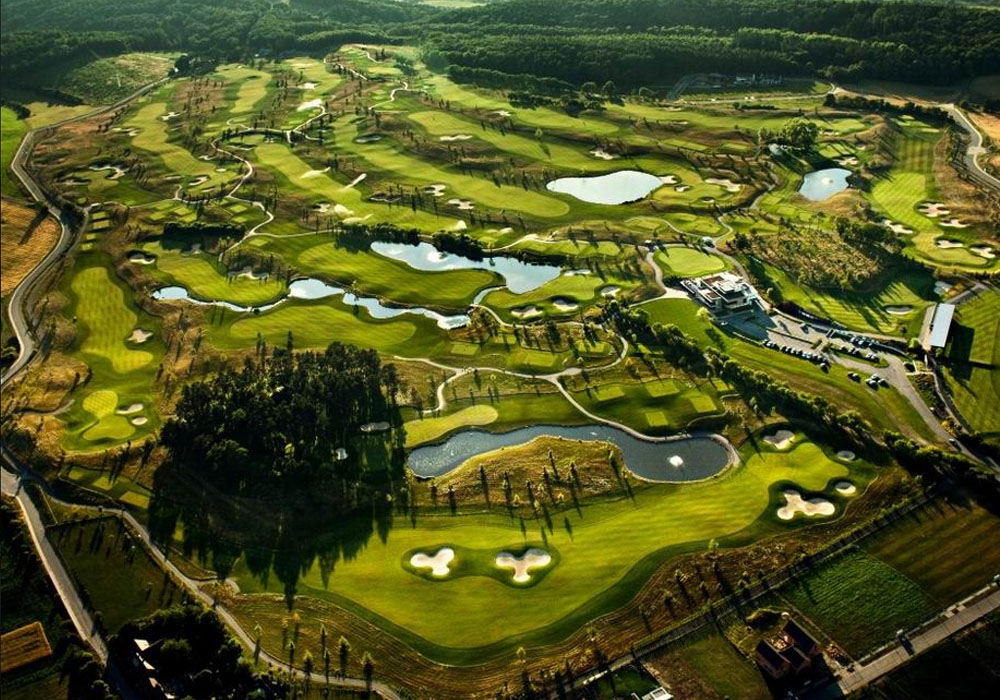 The golf course is yearly hosted Europen Tour D+D real masters with the best european golf players. This course occupies an area of more than 80 hectares (197,684 acres) and is situated on a hillside bordering the Cesky kras (Czech Karst) Nature Reserve. With an altitude of 420 metres (1377.95 feet) above sea level it benefits from a micro-climate and enjoys one of the longest golf seasons in central Europe. There are seven lakes on the course covering more than 20,000 square metres, 65 sand traps and more than 1200 newly planted mature trees adorning the landscape.
——
The course was opened in 2009 and designed by leading golf architect Keith Preston. It is a Par 72 course with a USGA Course Rating of 74.4 and a Slope Rating of 139 (off the white tees). The size of the putting greens ranges from 459 to 812 square metres depending on the overall design and the level of difficulty of the particular hole. The complete surface of the putting greens, including the aprons, measures 11,677 square metres. Each hole offers four or five tees with an overall surface of 12,900 square metres. There are nine holes which also have black tees and the length of the course from these tees extends to 6,689 metres.
http://www.albatross.cz/en/
The first 18 holes of Golf Resort Karlštejn were opened in 1993. The project originates from two Canadian golf architects, Les Furber and Jim Eremko. These two architects have been responsible for more than 70 golf courses around the world. Two of the most famous golf courses they have designed for and developed are the "Valderama" in Spain and the "Varadero" in Cuba.
———
In 2008, the current 18 hole course was enlarged on the South slope of the Voskov hill by new 9 holes. Designed by the Furber/Eremko team again, it connects with the existing course perfectly. The project benefits from the natural stripes of mature greenery. With narrow fairways, three ponds and numerous sand bunkers, it is a relatively difficult and technical course, where the planning of shots and the strategy of the game is important to achieve an excellent score.
http://www.karlstejn-golf.cz/en/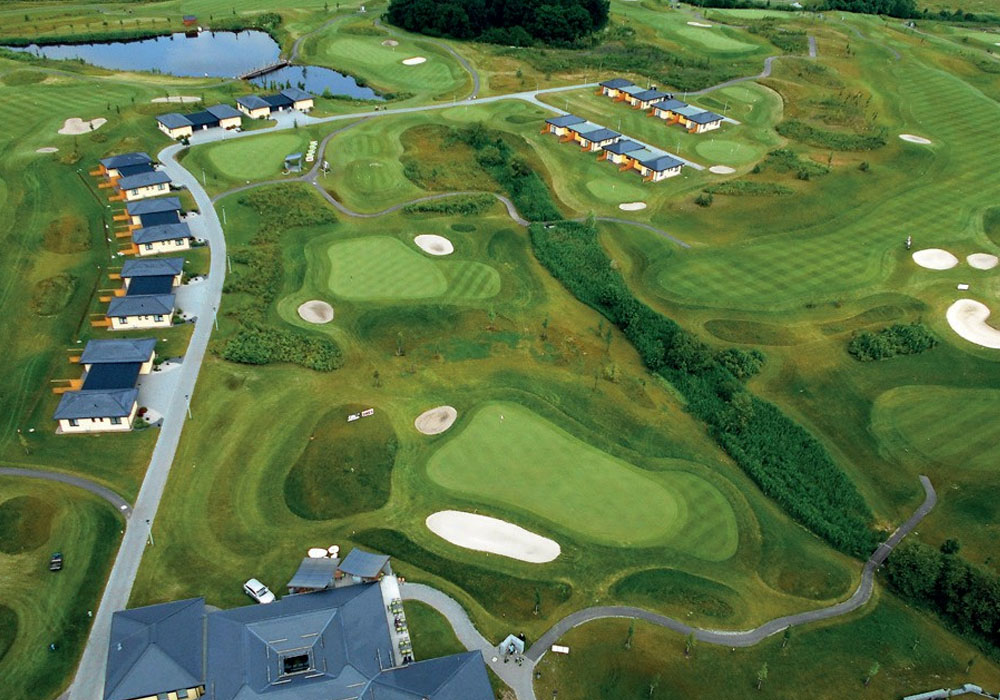 Modern golf resort in Prague, 15-minute drive from city center. A championship 18-hole golf course, par 72, length 6 190 metres. Located in an eastern suburb of Prague, very easily accessible. Perfectly maintained greens that are comparable speed to professional tour. This course is home course of the best czech golf PRO player Klara Spilkova. There is HAED PRO Clive Tucker, who is also coach of the one of the best world's golf player Graeme McDowell.
———
"It is the best golf course in Prague and its vicinity. I like practising there in between the tournaments because its close from the city center. And what more – greenkeepers will always get the putting greens ready with a speed I requested. Although Black Bridge Golf Resort is a young resort, the golf course is always perfectly prepared and I enjoy playing there."
— Klára Spilková, best Czech golfer and LET player
"I liked Black Bridge Golf Resort as well. It is an interesting and well-located golf course for experienced golfers as well as for beginners. If they let the course to dry-out in summer then it must be amazing to play there. I also like the driving range which is sloped therefore you can easily see where your ball is going."
— Ivan Lendl, legendary tennis player for Golf Vacations magazine
https://www.grcm.cz/en/